" You can be gorgeous at thirty, charming at forty, and irresistible for the rest of your life." – Coco Chanel
To call Shagun Khanna just a beautiful woman would seem a tad unfair, because her face is the image that would pop straight out of a vintage Barbara Cartland novel- porcelain skin, chiselled features, poise whispering royalty and the demureness of a lady. However that is where her resemblance to the book character would end because she is no wallflower.
Shagun is a health expert,  beauty influencer  and a lifestyle blogger. As a mom to two strapping lads and travelling between her homes in New Delhi and London, she manages to keep herself disciplined enough when it comes to food and fitness. Shagun is also an expert jury member for the Vogue India Beauty Awards.
In an exclusive interview with Cage Your Age, Shagun lets us peek into her little black book of beauty, wellness and nutrition.
How did your fitness and wellness journey begin? Were you always inclined towards it?
My wellness journey began when I was pregnant with my first son. I found out I had PCOS which meant I naturally had a hormonal imbalance making my skin fluctuate between clear times and times when I broke out. After reading a lot around PCOS, I have gratefully got it all under control. Since then, I have always become inclined toward health, nutrition, fitness and taking care of myself.
 Give us an insight into a typical day you lead in London. What does your food diary look like?
a) On rising – Hot water with lemon, followed by a teaspoon of super green powder – moringa, super elixir or spirulina in a tall glass of water.
b) Breakfast – I love organic oats with nuts! Or a simple protein shake. I love to keep breakfast light but fun.
c) Mid-day snack – I rarely snack between meals and go for infused waters.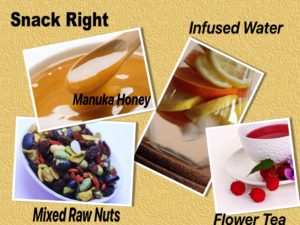 d) Lunch – Lunch always involves protein, vegetables, red rice or protein bread.
e) Post noon snack – No snack. I drink infused water, green tea, flower teas – lots of fluids to keep my body hydrated.
f) Evening – A small helping of mixed raw nuts with coffee.
g) Dinner – Dinner is my favourite meal and it's also family time. Dinner includes protein such as chicken or fish along with a green salad or grilled vegetables and a small piece of organic dark chocolate.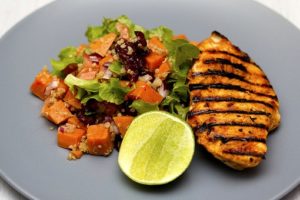 You have a very polished persona, what is your personal style when it comes to clothes and accessories?
Thank you so much!  I would describe my personal style as effortless chic. Meaning I want to keep my look timeless and elegant without trying too hard. I love the boho vibe but I also love a sharp tailored look or a traditional suit – it really depends on my mood and the occasion. Accessories are the same – I can either do light and pretty or statement.
Your alabaster skin is striking at first glance. Please give us a glimpse into how you maintain it.
A) My AM routine –
Every morning I when wake up I cleanse using a wash face. These days I'm using Vitonomics face cleanser followed by Uriage thermal mist and Sunonomics spf 30 gel right before I hit the gym…Post gym I wash my face with Vitonomics cleanser, spray Uriage Thermal Spring Water and then apply Vitonomics Vitamin C Serum, Yu Reverzo Stemcell Regenerating Cream and Bioderma Photoderm spf 50 Aquafluid. My eye treatment is Sesderma K Vit serum for both morning/night. Once a week I go for a treatment mask -these days I'm loving Furiga Flavo c mask .Also please note: I don't stick with one product for too long…my skincare regime is seasonal.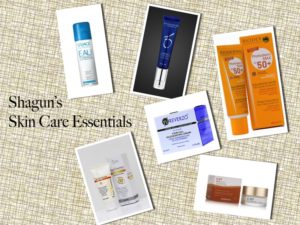 B) My PM routine : My night time routine is usually retinol based. After washing my face, I use rose water or Uriage Thermal Spring Water,  Retamax by Zo skinhealth (high strength retinol) and Sesderma K Vit eye serum. I love Brightenex/ Retamax retinols by Zo Skin but since it's the summertime I'm taking a break because it's a high strength one. In place of that, I'm using Ureadin fusion serum anti-wrinkle serum followed by Yu Reverzo Stem Cell Regenerating Cream.
What role does meditation and spirituality play in your life and how does it translate to the external self?
I believe in both meditation and spirituality and try to meditate daily – even if it's for the shortest time. The internal balance positively affects my external harmony – It keeps me grounded and focused. I also use exercise as a great reliever and physical therapy is my non-negotiable.
 What are the nutritional supplements you take on a regular basis?
I believe in healthy balanced diet, I eat right, in moderation and indulge once in a blue moon to make sure my body gets all the nutrients it needs. I avoid too many additional supplements and prefer to go natural, but I am a huge fan of probiotics for gut health, ginger and turmeric capsules along with manuka honey and vitamin C capsules for overall wellbeing. These days I'm on glutathione as well. Please note, I rotate my supplements too depending what my body needs. I don't take too many at the same time.
Are you always tempted to try new products and innovations in skin/ hair care? If so, which products and innovations in 2017 particularly impressed you and which ones did you find blah?
A) Impressive skin/ hair care products- I always love trying new dry shampoos – IGK charcoal dry shampoo is fab and under eye brighteners like Laura Mercier
B) Blah skin / hair care products – Not a fan of lip plumping glosses – the stuff they use in them to make your lips swell is not so good for the lip itself!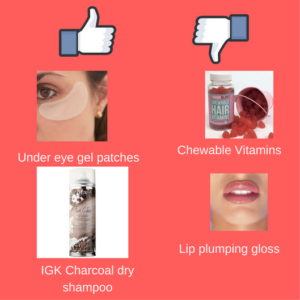 C) Impressive innovations in skin/hair care – Under eye gel to cool and depuff eye bags, love it when I'm travelling
D) Totally hyped and not worth it innovations – Chewy hair growth supplements which I have seen all over Instagram being promoted by huge influencers – they have a lot of sugar and are not great for the skin
 You obviously travel a lot, how do you manage your food and fitness diary while jet-setting?
I always try and enjoy the food of wherever I am as I love different cultures and cuisines. I am, however, always cautious and eat in moderation, controlling my portion size and understanding the ingredients carefully. I also take digestive enzymes to help me break down any heavy food. Sleeping well whilst I'm travelling is also important as resting helps your body work efficiently. I like using a silk eye mask which is gentle on your eyes, lashes and skin.
Exercise plays a huge role in your life. What is your basic routine at the gym like? And do you like to mix it up with other forms?
Anyone who knows me knows I just love the gym! From cardio to boxing, Pilates to resistance training. I like to mix it up so I never get bored.
 As a woman who looks fabulous over 40, what advice can you give other women who are reaching the similar age bracket so that they too can " cage their age"?
Be yourself and don't let something as minor as age stop you from living your best life. Work on yourself so you are genuinely happy with who you are because it really shows in the way you act, react and interact. It's true what they say – happy women are the prettiest! Don't let small things get to you, live passionately, give generously and enjoy every minute.