"I was  born and brought up in Mumbai, where I spent 15 years in the corporate world (and somehow found the time to extensively study Finance and Marketing), developed skills in human behavior and learned that actionable goals can get one almost anywhere. Somewhere in-between chasing deadlines as VP of Marketing at Star TV and  pursuing new hobbies, I underwent a '360-degree' transformation. I started to question my choices to find my own answers. It was a beautiful (& scary) process of unlearning what I'd learned as a student, a professional, a friend, a daughter, a woman. I was vulnerable because I knew the new direction was leading me away from everything I was familiar and comfortable with, everything I was good at! But if it wasn't for that I wouldn't have found 'me' or my calling – as a certified health, wellness and life coach. My love to unfold human layers met my passion to shape and transform lives. My own story is my reason to believe if there is a will to move forward and a way that is simple, positive and objective, anything is possible!"
As a full time practicing life coach and wellness coach, Nipa Asharam has already coached 500+ hours, spoke at TedX, done multiple corporate workshops, been in-house coach to companies in a span of 2 years.
Her attempt is to build a platform for wellness and work with entrepreneurs and individuals across the globe to make an impact and achieve their true potential.
Tell us how did this self discovery journey begin?
It began somewhere in 2009 when I had a mix of physical and emotional signs – migraines, insomnia, leaky gut, over-analyzing everything, patterns in personal life – perhaps my first ever clear indication that I am not happy and I had to accept it. Being in denial is one of the most common issues and I guess my health issues left no room for me to be in denial anymore. This acceptance led me to start acting on things which is when my journey of self-discovery began.
The term " holistic approach" is heard so commonly, that we take it for granted. What exactly does it mean?
Holistic approach is when we take every aspect of our lives into consideration. I shall break it down more clearly into primary food and secondary food. Primary food is career, relationship, state of mind and workout. Secondary food is nutrition. Interestingly most are focussing on secondary food but the truth is when your primary food is not addressed, rarely are we truly nourishing our mind, body and spirit.
Inner peace and mindfulness , tell us where are we going wrong in trying to get there?
I think we are complicating it 😊 and we are also now making it another institution!
These are some myths around inner peace and mindfulness  – 1) it means to be thoughtless 2) it means to sit in one place and meditate and then forget about it rest of the day 3) it means having no flaws or not being human. Honestly it means being ourselves, accepting it and embracing it and completely being present in whatever we are doing in the day. When we can do this, we will learn through our own awareness what feels good and what doesn't and be on our own journey of growth.
You haven't used make up and hair products in years, what is the reason?
FIRST A DISCLAIMER – I HAVE NOTHING AGAINST IT. I have friends with gorgeous skin and use it to enhance their looks and feel really happy doing so. I just didn't  have the best relationship with it at one point of time that made me question it , and I wanted to drop the dependency on it. Of actually giving it the power to decide if i am looking good or not. So I gave it up and of course since I knew I couldn't depend on it, I started to take even more care from the inside that would show outside.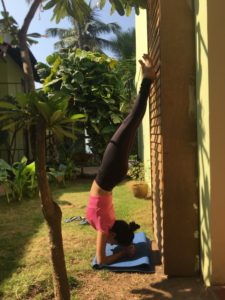 What is your " Mindfull inches Master class " all about ?
Today fitness is associated with what a weighing scale tells us, how many calories we are consuming and comparing ourselves to someone else's body in deciding how far we should go to 'crash diet' to get that look! Doesn't  this sound exhausting and lethal?  Hence Mindful Inches Loss focusses on self-love, self-care, essential routines, education on different food groups, giving a framework for 6 weeks broken down into 2 weeks plans that the class does together. they motivate each other, enjoy the journey, feel the difference through their emotional self as well along with dropping the inches. now isn't this more fun?
Tell us 3 big myths about weight loss that you constantly come across?
Weight loss is
1) calories in = calories out
2) Is this fattening? This is the most common question. There is no specific food that is fattening, you can only categorise it as good fat or bad fat and educate yourself about that first.
3) That losing weight is hard.  Actually it isn't if you just knew how to embrace your bio-individuality and work from there to make a plan that gives you results.
You have innumerable clients across the country who have benefited from the , " Natural Glow Masterclass", what can one take away from it?
This is one of the most sought after classes. As always I focus on the inside out approach.  So it includes:
a complete nutrition plan
in depth education on superfoods and the co-relation to looking good.
my mantra to what can give you that natural glow that sustains.
As a health, fitness and wellness coach , what are the challenges you face while dealing with clients?
Well firstly it would be to make them realize the difference between a nutritionist and coach. Today everything seems to fall under one umbrella- dietician, nutritionist, trainer, fitness expert, influencers, doctors !
The definition of holistic healing and making them experience it first hand.
Making them integrate the mindful rituals as much as the nutrition ones, transforming your life and habits is not an instant decision, you need to grow into them.
What kind of a diet do you personally follow ?
On rising- water water water!
Breakfast- My superfoods – I have tons of them! And my Gujarati tea !
Mid morning- i don't believe in so many meals through the day .
Lunch- lovely home food following my 'myplate' tool .
Evening- maybe some nuts but mostly nothing.
Dinner-  Again simple home cooked vegetarian food .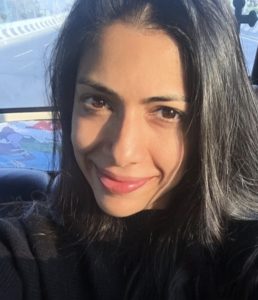 Since you don't use any branded skincare or hair care as such, what is the secret to your glowing skin and lustrous tresses?
I am a huge believer of natural superfoods to give you that radiant glow. Also I have launched two of my products which has personally benefited me a lot and is now giving amazing results to others too . They are called Superherbs and Super Radiance, both of which need to be consumed internally.
SIGN UP FOR THE ONLINE COURSE WHERE NIPA OFFERS GUIDED STEPS , MATERIAL AND HAMPER WITH HER SAMPLES – use the code CAGEYOURAGE
https://www.eatbreathesmile.com/natural-glow-masterclass
(Nipa Asharam is based out of Mumbai and regularly conducts workshops across the country.  For further details, e-mail her on nipa@eatbreathesmile.com.)