So here is an internationally certified dermatologist, the country's leading doctor who trains a whole lot of other cosmetologists on botox and filler procedures, has a gamut of Bollywood and TV celebs as her clientele and yet is a simpleton when it comes to her own skin care needs!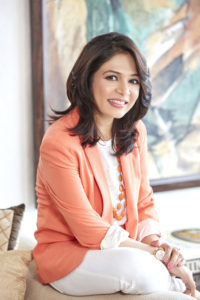 Meet award winning cosmetic dermatologist – Dr. Jaishree Sharad, with over 18 years of experience in the field , author of two bestselling books and being the only Indian on Board of Directors of the International Society of Dermatologic Surgery , she has an appointment book, choc-o-bloc with consultations and procedures.
In an exclusive interview with Cage Your Age, the immaculate and gorgeous doctor gives us in-depth knowledge about skin care and it's holistic approach.
And when you have the Big B accompanied by his family at your book launch, you know you have arrived !
You have a strong base in India, and you know Indian skin and its most common problems in and out. What changes have you seen in the type of patients and their problems in the last five years?
Acne and polycystic ovary cases are steeply on the rise. Previously I used to see one or two patients a day with these problems but now I see at least 10 patients a day with just issues related to PCOS and PCOD like acne and excessive hair growth on the face and body . This is largely a lifestyle issue – too much of dairy and sugar in the diet, or even frequent late night parties with alcohol and smoking with irregular sleep patterns can all up your risk for this. 
Children these days, at the age of 9 or 10 are developing these problems because of the same reason-  junk food, drinking milk with antibiotic and hormone traces,  and even those who do opt for organic milk, how sure are you that it's organic?
Another problem that I encounter frequently  is premature fine lines, pigmentation and wrinkles.  The main reasons for these are pollution and exposure to harsh infrared and blue light. While we previously used to see fine lines on 50 year olds, now they start developing as early as the age of 30. There is no certain sunblock that can protect us from rays other than UVA and UVB. There are a few sunscreens being developed with iron oxide in it, but it's still in the nascent age.
What are your top 5 non-negotiable rules when it comes to skin care ?
You are what you eat, so I counsel them mainly about their diet- how to eat healthy – definitely

 

no junk, no sugar or dairy. Eat lots of fruits and vegetables and follow a balanced diet.
Sunscreen is the most important skincare product, I tell my patients you can even forget to brush your teeth but don't forget your sunscreen!
Cleansing at night is an absolute must. Using a face wash or makeup cleanser at night is so important to remove the days grime, pollution and chemicals that settle on the surface of your face.

 

Lifestyle- Both alcohol and smoking are bad but I would say smoking is even worse and damages your skin irreparably .

 

Exercise- you have to incorporate at minimum of 30 minutes of exercise at least 6 days in a week because it really boosts your circulation and your hormones are also balanced.
We are constantly exposed to Youtubers and beauty bloggers recommending a range of skin care products and giving advise, at what point should you stop googling problems and actually go to a dermatologist ?
This is one issue that really troubles me. It actually starts right from the skin whitening creams that stars are paid huge buck to endorse. And consumers get carried away with all the glamour and start following anything that is advised by these so called beauty influencers . They have zero knowledge about the ingredients – are they doctors or pharmacists to sell them blatantly like this?  I have so many patients who come to me because of side effects from using the wrong products. 
 It's fine if you follow someone and use a moisturiser or sunscreen they recommend but if you have pigmentation, rashes or acne please see a doctor. I see bloggers advising people to dab tea tree oil or apple cider vinegar , and giving home remedies for what may not even be a skin problem, it could be related to the kidney or liver and just manifesting itself on the skin. 
We would love to know what kind of a skin care regime you personally follow?
Mornings I cleanse my skin with Uriage Creme Lavante, it's a mild, soap free cleansing cream. I follow this up with Emolene moisturiser and use the Isdin Fotoprotector Fusion Water with an SPF 50 over it. 
Evenings I cleanse my face with the Isdin Micellar Water and pat on Skinceuticals under eye cream. For my face,  I alternate every night between the Sesderma Retiage (retinol ) and Sesderma C-Vit ( Vitamin C ). This is followed with a moisturiser which I like to keep very basic, I mostly use Cetaphil and sometimes also use the Laneige Water Bank Moisturizing Cream. And yes, the Laneige Lip Sleeping Mask is also indispensable.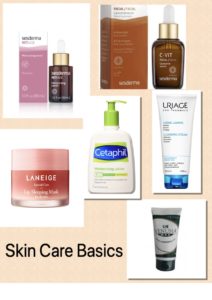 I don't use any fancy moisturisers like La Mer or La Prairie even though I am constantly given all these products, simply because I have sensitive skin and will wake up with a swollen face if I experiment !
During the day, I continuously slather my hands with Venusia Max Cream because I have to wash my hands very frequently. 
At bed time, I use plain almond oil all over my hands, legs and feet- it does wonders for your skin. 
What kind of supplements would you recommend for glowing skin and hair? And what do you personally take yourself?
I usually recommend a combination to my patients. Hair needs amino acids, biotin, iron , calcium and vitamin D. 
 So I will prescribe maybe iron + amino acids on Monday, Calcium+ B complex on Tuesday and Anti-oxidants on Wednesday , and then make them repeat this cycle.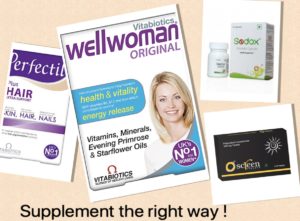 I personally take just one supplement in a day- Well Woman or Perfectil .  
But when I'm travelling I do make sure I take –
2 tablets of Oscreen ( it contains polypodium leucotomos which is basically an oral sunscreen) 
1  Sodox capsule ( contains super oxide dismutase which is an antioxidant)
 and a Vitamin C 1000 mg. All this coupled with a good sunblock prevents a tan especially while holidaying in a beach location. 
As a dermatologist, always on your toes, you also need to look your best at all times.  What kind of basic make up is in your kitty always ? 
For my daily wear, I just use the Bobby Brown compact over my sunscreen and Im good to go. But if Im attending an event, I usually use the Nars Liquid Foundation, so I keep a bottle each at home and in my office. 
My lipstick is always a shade from the Nars Audacious range, and that is something I retouch frequently .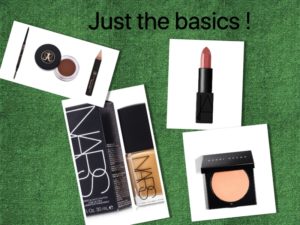 I feel incomplete without doing my brows, so that is something I do every morning before I set out from home, and I swear by the Anastasia brow kit .
What kind of a skin care regimen should one follow while travelling? Tell us some indispensables that we definitely need.
l always carry a moisturiser ( one each for face and body ) , sunblock, lip balm, under eye cream and wet wipes ( to remove make up or grime ). Also if you can a thermal water mist is very useful to refresh yourself. 
Today, we have so many home use machines at our disposal like derma rollers, UV machines, laser hair removal devices, electronic facial cleansing brushes etc. Which of these are actually safe for us to buy and use, and which ones would you definitely not recommend using at home?
Home laser removal devices don't really work, they are more like epilators, it doesn't make sense to buy it.
 Derma rollers are really risky because your chances of catching an infection like herpes are very high. Even though you are supposed to dispose the derma roller after one use not everyone does that, and then they re-use it without sterilising it and end up damaging their skin. Leave it to a professional always. 
You can safely buy Clarisonic brushes and jade rollers , they are fine, you shouldn't face a problem. The UV masks and devices available are also quite harmless because they are very mild but its avoidable if you have very dry skin or pigmentation. 
Tell us one totally underrated skin care ingredient , and one totally over rated ingredient that you thought was average? 
Retinol is THE number one anti ageing product available , even a 50 rupees tube of Retino-A can perform miracles if used the right way, but people just want to talk about things like marine algae, peptides and argireline .   There is really no substitute for retinol, it is the only scientifically proven ingredient for anti-ageing.
I would say the new products with fish oil and seaweed based ones are over hyped. 
You are definitely tinsel towns most recognised dermatologist. But does this result in patients asking to look like a celebrity,  how do you deal with it?  
All the time ! As a result I am now , a half shrink and half dermatologist !
 Because people don't realise that most of these celebrities don't have the kind of skin we see on magazine covers, it's all make up, photoshopped and so much goes into creating that perfect picture. When they come and tell me , they want so and so celebrities nose or lips, I tell them very clearly that they have been blessed with their own unique nose or lips and nothing drastic can be done about that.  
I counsel a lot of my patients, and tell them they need to have their own identity, I see so many people in town walking around like plastic dolls !
 Even though I am an international filler and botox trainer, and I recommend fillers, it has to be done the right way respecting the basic aesthetics of the face.
When I was studying in LA , I used to be mortified looking at these identical clones walking around, they all have the exact measurement of lips, nose and eye to lip ratio- it looks bizarre !
You have to love yourself first !
……………………………………………………………………………………………………………………………………………………………………………..
Dr. Jaishree Sharad 
Intenational mentor, American Society of Dermatologic Surgery
Board of Directors, International 
Society of Aesthetic and Dermatologic Surgery
Medical Director,Skinfiniti Aesthetic & Laser Clinic, Mumbai
Editor in Chief, Aesthetic Dermatology, Current Perspectives ( Jaypee medical Publishers)

Author, Skin Talks ( Penguin Random House Publishers )
Author, Skin Rules (Penguin Random House Publishers )