" Hi protein bar ! You know you are just a candy bar, but let's just pretend you are healthy, hide all those nasty ingredients in you and I will carry on imagining I just had this amazing nourishing meal replacement".
Yes, we all have picked up these energy bars at some point during a grocery trip, and munched on it to avoid eating anything else we have been eyeing on.
Most of them leave us with a sugar overdose, the so called ' natural ingredients ' have no way of sustaining varied shelf life conditions and some even leave a powdery residue in the mouth.
There are a zillion to choose from, yet all of them undoubtedly come packaged with plenty of preservatives and ugly hidden substances . Whether they are called granola, muesli, energy, protein, paleo, nature , meal replacement, power or quest, it's time you bar these bars from your life completely.
Next time you pick up a bar, turn it over and if it contains any of these ingredients, you know it needs to be binned immediately –
1. Soy Protein Isolate – stay away from all soy forms, you are better off finishing a tub of M & M's.
2. High Fructose Corn Syrup- This chemically made sweetener is linked to weight gain and insulin resistance.
3. Agave Syrup- this has more fructose than corn syrup and don't let the 'natural' tag fool you.
4. Soy Lecthin- this helps the bar stay glued together- red flag ingredient.
5. Brown Rice Syrup- if it has the word ' syrup' say Ta- Ta !
6. Palm oil or palm kernel oil- this gives the bar a longer shelf life, and anything that does that is definitely hazardous for health.
7. Natural Flavours- this has to be the most ' Unnatural ' ingredient – they are chemically altered and created in a lab to mimic flavours like coconut, strawberry , vanilla etc.
8. Sugars- these come under names like erythritol, mannitol, sorbitol, xylitol, lacitiol, isomalt- these are the ingredients mostly commonly found in low calorie bars but these can cause gut issues and even diarrhoea .
9. Hydrogenated oils- is risky for heart health and cause serious cholesterol problems in the future.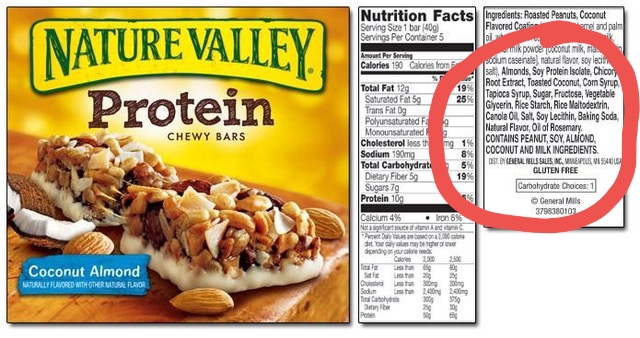 ---
As it turns out, making one of these bars at home is one of the simplest things- you know exactly what is going into it, you can alter the ingredients to suit your taste, it stays refrigerated for upto a month and is such a great snack to carry with you at all times or even in your kids snack box.
Indian Granola Square 
Ingredients                                                                                        ( Makes approx 15 to 20 squares )
1 cup pitted dates ( medjool preferably )
1/4 cup honey (can swap with maple syrup )
1/4 cup creamy natural peanut butter ( ingredient on the jar should be only peanuts )
1 cup roasted almonds ( chopped coarsely )
1 1/2 cups rolled oats ( roasted )
3 tbs ghee or coconut oil
1 tbs black sesame seeds ( roasted )
1 tbs white sesame seeds ( roasted )
1/4 cup raagi malt powder ( if you don't get malt, just roast normal raagi powder )
1 tsp Himalayan pink salt
Additional – you can swap, sesame seeds with roasted chia seeds, and swap raagi powder with sattu powder .
Or even add a bit of desiccated coconut, cinnamon, chopped cranberries or a dash of vanilla according to taste.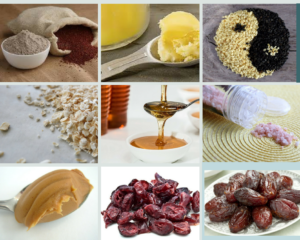 Method
1. Grind the dates in a food processor till it is chunky and forms a sticky mass. Do not add water while doing this.
2. In a large mixing bowl, add the oats, dates, almonds ,raagi  and sesame seeds.
3. In a sauce pan , gently heat the peanut butter, ghee, salt and honey together and add this thick liquid to the bowl.
4. You will now need to use your clean hands to gently knead this stick mixture together and continue to add the rest of the ingredients. Alternatively you can do this in a Kitchen Aid if you have one, but hands work well too.
5. Once it is throughly mixed, transfer into a foil/ butter paper lined 8 x 8 baking dish. Press down firmly until it is all uniformly flattened . You can use the flat base of a heavy dish or even a rolling pin to do this. The mixture should be packed in tightly .
6. Cover this with foil or paper and freeze for half an hour.
7. Remove it with the lining and cut with a knife into evenly shaped squares. The reason I don't like the normal 'bar' shape is that it is probably a bit too much to consume and may get wasted. Also since there are no additives to ' stick' it together, the bars may snap while cutting.
9. Transfer the squares into an air tight container and refrigerate for upto a month.
Note
1. You can use unroasted oats and almonds, but roasted definitely tastes better and adds a crunch.
2. If you are allergic to peanuts, you can use almond, sunflower or any seed butter instead.
3. Make small batches, using the best organic ingredients available, after all you are consuming it.
---
If however you do prefer to buy them off the shelf, choose wisely by re-reading the ingredient list. There are quite a few of them which have a clean list and taste great too.
My favourites are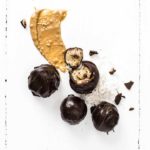 The Protein Bakeshop-  is India's first grain free bakery. The peanut butter truffles, coconut truffles and dark chocolate truffles are unbelievably yummy and also give you a good dose of protein. Order for them on Amazon if you are in India – HERE or if you are in Dubai – HERE
Huda Bar – totally unrelated to Huda Beauty before you ask. However each of the Huda Bars are little beauties on their own. The lady in charge, Huda Masood makes each of these flavourful nutrient rich bars in fresh batches on order and uses only organically farmed ingredients. Totally devoid of artificial sugar or sweeteners, they make the perfect pick-me-up-snack. Order them – HERE