" I'd rather have roses on my table than diamonds on my neck ", said political activist Emma Goldman ( I would say, in a moment of foolishness of course ! ) . Yet, we can forgive her for this lapse in judgment because who can resist the allure and beauty of a perfect rose?
Roses have captivated us from centuries, and legends say that before the Romans saw Cleopatra, they smelled her. She announced her arrival to Rome by perfuming her boat with roses, and filling all the streets with its petals. We lesser mortals of this world can avoid littering the streets and instead focus on making the most of this perfectly created, tantalisingly fragranced flower.
If you haven't been using roses for skin or hair care, this summer is the perfect time .
Here's why- thousands of years ago, Ayurvedic medics were crushing, grinding, juicing, drying and preserving roses and formulating them in all forms of medicine, tea, oils and scrubs. Roses are used to balance the pitta dosha , has an anti- inflammatory effect on the digestive system and has been scientifically proven to soothe issues of the heart ( no brainer there ! ).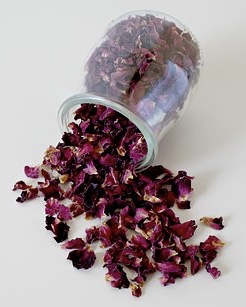 How to get the right roses ?                                
Before you go down to the local florist and buy yourself a bunch for skincare, please beware, almost all have pesticides and colorants added to them and you don't want to ingest them in any way, even through your skin.
1. It would be best to uses roses that are from your own garden, that way you can be sure of the source.
2. Do look up organic rose petals online, there are plenty of options available.
3. Use food grade rose petals, which are commonly used for sweets and tea. Available at high end grocery stores  in all leading cities.
4. If you buy rose petal powder that is pink in colour and a strong fragrance, you can be sure it's not real. Dried and powdered rose petals are brownish pink and will have a very subtle fragrance.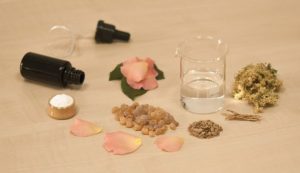 4 amazing ways to use fresh/ dried rose petals for skin            
1. Yoghurt and rose face pack- ( soothes sunburn skin )
Blend 10 to 12 freshly washed rose petals with a few spoons of yoghurt. You could also add a few strands of saffron to this in the blender. Apply the pack as you would normally and wash it off.
2. Roses, egg white and honey pack – ( anti-ageing pack )
Add crushed rose petals to egg white and honey, stir with a spoon and apply on your face.
Don't put this in a blender, you will land up with a mousse instead !
3. Rose, milk powder, sandalwood powder and orange peel powder ( de- tanning and glowing skin )
If you don't already have milk powder in your face pack kitty, buy it now ! Blend all of the above with a little water and apply on the skin. Leaves your face fresh as a daisy, or rose in this case …
4. Rose body scrub ( leaves your skin polished, soft and fragrant )
1 cup granulated sugar, 1 cup dried rose petals, 1 cup coconut oil, a few drops of rose essential oil, 4 to 5 vitamin – E capsules .
In a blender, blitz the sugar and dried rose petals to a coarse powder. Blend in the the coconut oil, rose oil and pop the capsules into it. Mix thoroughly and store in the prettiest jars you have ! They smell heavenly and leaves your skin glossy and smooth as a babys bottom.
All of the above face packs can be made and stored in air tight containers ( refrigerated ) for upto 3 to 4 days.
The body scrub doesn't need refrigeration.
Apart from using fresh and dry rose petals in a variety of packs and scrubs, I'm obsessed with rose based products too. Yes, all of us love the luxury of ripping apart fresh packaging !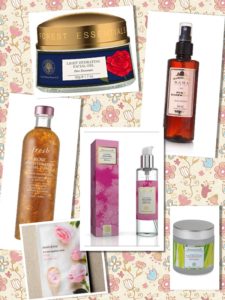 Here is a line up of a few of my favourite rose based products that beats the rest hands down.
Forest Essentials- Pure Rosewater Hydrating Facial Gel
I cannot bare using moisturisers during summer, I hate that icky feeling. This light as air, prettiest pink and heady smelling gel does everything- right from soothing a sun burnt face ( it has cucumber and aloe vera extracts ) to putting in that right amount of moisture into your skin.
Buy it here
Kama Ayurveda Pure Rose Water
Yes, there are a zillion rose waters in the market. Why do I always come back to this one? Its just an incredible toner, astringent , make up setting spray and a spritz-as-you-pass-by spray . Love it !
Buy it here
Innisfree My Real Squeeze Mask Rose
Yes, I do know , sheet masks= Hannibal Lecter look. But they are the best way to just infuse all those wonderful vitamins and antioxidants into your skin in a short period and leave your skin looking plump as a peach.
The thing with sheet masks is, you are forced to sit or lie down, so you might as well fill your senses with everything rosy. Believe me , that lovely fragrance is bound to put you in a wonderful mood too.
Buy it here
Ananda Wild Rose Body Oil and Rose Facial Mask
My stay at the Ananda Spa and Resort was made even more memorable when I came back with these two treasures. The body oil is super light, can be used pre or post shower, leaves your skin bouncy and supple, and even leaves my bathroom smelling like a spa for hours !
The Rose facial mask is infused with aloe vera gel, hydrates skin and brings a glow to dull and distressed skin. Big summer need .
Buy it here
Fresh Rose Deep hydration Facial Toner
I confess I bought this simply because of its packaging. Who can resist a bottle which has actual petals floating in sublime motion , pretty as a summer picture. But then, this toner actually delivers what it promises . It hydrates, doesn't leave your face tight , removes impurities and makes you realise that you need to definitely use a toner in your skin care regimen.
Not available in India but you can buy it here