1988- As a 10 year old, I vividly remember my mothers skin and hair regime , which were exactly three products- a blue tin of Nivea creme, a bottle of glycerine from the chemist and a jar of coconut oil. She managed to ward off wrinkles, sunspots and grey hair till her late 50's with just these 3 goldies.
Cut to 2018- I have more than three products for just my cuticles! Yes, I am a product junkie and I have no qualms about it. So during my recent spring clean up of the skincare shelf, I realised that there was one particular kind which seemed to dominate over everything that I have been using over the past year- Korean skincare.
I have been gravitating towards K beauty much like a magnet and for all good reasons.
Unless you have been living under a rock, you have definitely heard about the Korean 10 step skin regime- the reason all Asian women have that glass like dewy complexion and skin that never seems to age.
Basically this is a break up of the famous Korean 10 step skin regime which they do twice a day.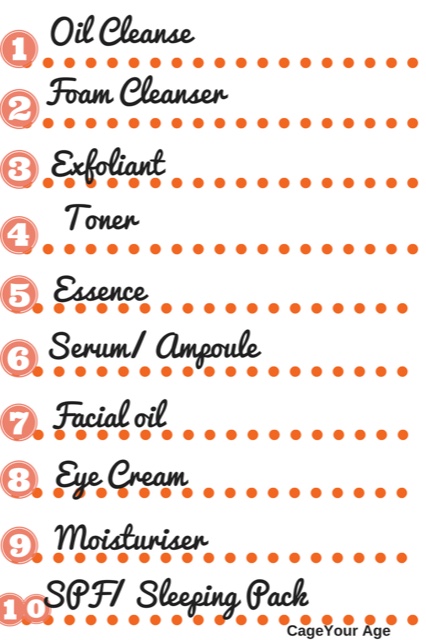 If you already do this routine, you can remember everything , take the time out and do it twice every single day ( Slow clap for you my lady ! ), you probably are halfway to attaining skin nirvana.
Honestly all this is a bit overwhelming for me. I indulge in a basic three step routine of cleansing, toning and moisturising and on a special day if I remember a fourth step, I do feel like I have won an Olympic gold.
What is special about Korean skincare ?
1. For one the Koreans take skin care very seriously. The average teenager begins using an eye cream before she turns 18 ( gulp !). Using and reusing a sunscreen through the day is considered mandatory. They hate tanning their skin and will go that extra step to protect their peaches and cream complexion.
2. A few products use ingredients that are definitely off all our charts. Take a look at these – snail slime, donkeys milk, salmon eggs, bee venom, pig collagen, cheese cream, mink oil and placenta extract to name a few. Their skin care industry is a decade ahead of its western counterpart because of the willingness to try new ingredients and that they don't shy away from experimentation .
3. If you buy a K beauty product you can be sure it will not sit heavy on your skin and turn you into a greaseball in a few hours. All their products are light, water based emulsions which is probably why the 10 step regimen makes sense to them. All of them are non comedogenic, will almost never cause break outs and are not high on fragrances .
4. Korean skincare products are surprisingly much more affordable than what you may imagine. The sheet masks costs a third of the most popular ones in the market and you can get amazing dupes of SK-II and Estee Lauder skincare at a tenth of the price without compromising on quality.
5. They invented sheet masks, BB creams, cushion foundations and water based sunscreens – enough said !
These are a few of my favourite things !
1. Sheet masks – They come in an amazing variety to suit your skin type or mood. Just whip out a mask, ( when you are sure nobody is visiting ! ) mummify your face and relax. When you are done, rub the sheet over your neck, hands, feet or any area that requires hydration. And don't wash your face, its a leave in treatment.
Choose from Innisfree, Faceshop, It's Skin, Dr Jarts … the list is endless.
2. Cosrx Advanced Snail 96 Mucin Power Essence – yes, this one is that ingredient- snail secretion. However let me assure you, it doesn't smell or look gross, alright the consistency is a bit slimy, but that's all ! There are tons of skin care products with snail secretions but this one contains 96% of snail filtrate and gives your skin intense hydration without any greasiness. Buy it on Amazon or from any of the Instagram stores.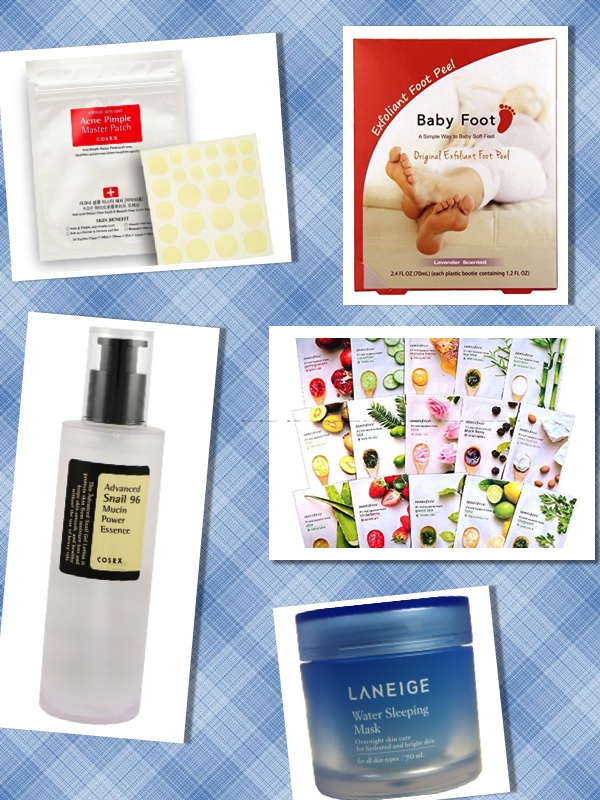 3. Laneige Sleep Mask– It doesn't put you to sleep but it does make your skin look like it got 8 hours of sleep. Or that's what it claims. Let me be honest, there is no substitute for sleep but this does make your skin look supple and bouncy in the morning. It's a sleep mask, so you just slather it all over your face and hit the pillow, no need to rinse .
4. Baby Foot Peel– Call me weird, but I was a kid who loved to slather Fevicol glue all over my palms. Once it dried, peeling off that glue felt so therapeutic ! Probably why I love this foot peel so much is that it invokes those memories. You just wear it like a pair of socks for the mentioned time, and wash it off. As days go by, you will wonder what the hell that foot mask did for you BUT…. by the 7th day you will start shedding. And by skin shedding I mean, wads of skin will start peeling off your feet. And you will be left with literally baby bum soles.
5. Cosrx Acne Pimple Master Patch– One of my favourites ever since the bloody hormonal acne decided to raise its dirty head in my life. It is literally a band aid for that ugly monster on the face. Just peel and wear a patch on the pimple at night and by morning it is looking a lot less angrier. Well, it will not vanish , let's not have any delusions about that but it does look much more manageable the next day. It also comes in a transparent version which you can wear in the day time.
Obviously I cannot mention the entire list of skincare that I experiment with here, but you get the picture . The only downside about using these products is that one year down the line you may not find it in the shelves anymore. Korean companies like Amorepacific Group which own 33 beauty brands amongst which are Etude House, Innisfree, Laneige, Lolita Lempicka and others launch more than a 100 products in each brand every year, half of which will not be available a year later.
Like my favourite – Faceshop Rice Water All in One Cleanser did the disappearing act after two bottles ! Well I have no complaints really, variety is the spice of life.
Quick reference to the best sites to buy these products-
www.nykaa.com
www.amazon.com
www.iherb.com
www.beautybarn.in